Andrea uses her extensive and diverse experiences as a yacht broker, a professional yacht captain and in numerous other positions in the marine industry to provide enthusiastic, high-energy personalized service with a deep knowledge of yacht sales and unparalleled attention to detail that quickly builds her client's trust. Whether a listing or buyer's broker, Andrea forms a lasting and trusting relationship with her clients before, during and after the sale.
As a buyer's broker, Andrea's experiences as a yacht captain mean she can provide valuable insights into a yacht's materiel condition, capability, and liveability. She is able to successfully filter, from a confusing array of yachts for sale, those that closely match the needs of her client. 
Whether a listing or buyer's broker, or a new build owner's representative, Andrea forms a lasting and trusting relationship with her clients before, during and after the closing.
See what her clients say about Andrea as a yacht broker.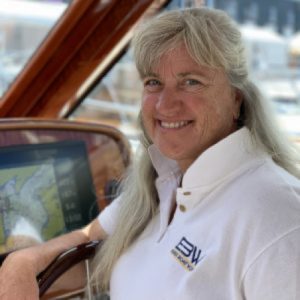 Andrea Gaines, CPYB – Yacht Broker
Andrea brings to Essex Boat Works a high level of integrity, a strong work ethic, an unwavering attention to detail, and an enormous energy and passion to go with her diverse experience in the marine industry.
Andrea's marine industry experience is diverse and extensive. She was Captain aboard a Marlow 65E responsible for the safe operation and all aspects of vessel maintenance and repair while cruising the U.S. east coast, Gulf of Mexico and the Bahamas; Director of Yacht Services for Krogen Express Yachts responsible for new boat commissioning, warranty and customer service; and Fleet Captain and Director of North American Operations for Sea Spirit, LTD responsible for yacht production improvements as well as moving boats throughout the U.S. east and west coast boat show circuits, planning and executing yacht deliveries, sea trials and pre -delivery inspections, owner orientation, and all warranty and customer service related matters. Andrea is also the Principle of her company, Jane of All Trades LLC, where she provides client yacht management services and owner instruction in seamanship, boat handling, electronics and vessel systems.
She has cruised in waters from Southwest Harbor, ME to Golfito, Costa Rica (including a transit through the Panama Canal), as well as the Bahamas, Caribbean Sound, Puget Sound, Hong Kong and the Pearl River in Zhuhai China, in both fair and foul weather accumulating tens of thousands of nautical miles afloat. She holds a US Coast Guard M100GT license with STCW95 certification to go with a lifetime of boating experience.
Andrea began her yacht sales career in the Florida brokerage office of Sparkman & Stephens. During her tenure with Sparkman & Stephens she enjoyed great success finding her clients just the right boat. Her unique background, experience and industry network provide her with the knowledge to assist her clients in finding the perfect platform to enjoy their time on the water. One of her clients has even gone as far as calling her the "Willie Mays of Yacht Brokers".
Andrea also has 20+ years of project management and product development experience where she specialized in new ventures and start-ups, process evaluation and improvement, and complex project management. She has a BS from Springfield College and an MS in Business Management from the Hartford Graduate Center.
Andrea has enjoyed a decade-long relationship with Essex Boat Works primarily as a yacht captain engaged in vessel maintenance and repair. "I am very excited to join the Essex Boat Works brokerage team and be a part of so many great initiatives they have started."
In addition to her M100GT USCG license, Capt Gaines holds a STCW95, Transportation Worker Identification Card (TWIC) and a Connecticut Certificate of Personal Watercraft Operation, and is certified in First Aid, CPR and AED.